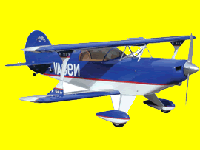 Features:

o UltraCoat®
o Metal Cabanes
o Reinforced Wng
o Painted Cowl
o Reinforced FW
o 120 4-Stoke
o 3" Al Spinner
o FG Pants
o Metal Cabanes
o Quality Hwdr.
o Tail mounted Rudder/Elev Servo

o Tail Mt. Servos

o Produced by Cermark, Inc.®
The famous Pitts produced by Cermark® is more than legendary, it will be the best experience you ever had flying bi-plane. Available in either blue or red & white. Cruise with ease and stable, straight tracing and with a assertive stix control, due all the 3-D you can imagine.
Specifications:

Span

Area

Chord

Airfoil

Wingload

Length

Engine

Weight

60"

1020sqin

Full Sym

23 oz/sq-ft

58.5"

90-140

9.5-10
F