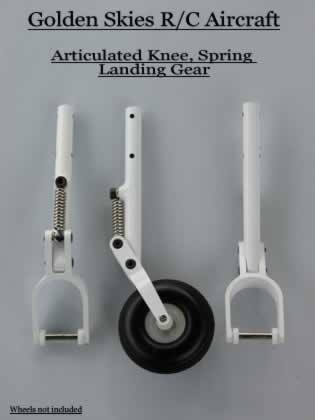 Golden Skies R/C Aircraft
Trailing Link , Spring-Shock Landing Gear
The Innovative Articulated-Knee, Shock-Absorbing landing gear is designed to absorb the distresses and to shield the airframe form damage associated with rough landings. Making the pilot look like a "Landing Pro" is just a bonus. The springs also take up much of the normal shock and vibration associated with taxing on rough surfaces, such as grass fields, thus protecting the landing gear mounts.
The Trailing Link Configuration can swing more than ¾ of the wheel diameter, thus providing a very dynamic range of shock absorbing travel. The spring gear is designed to fit directly over existing 5/32" to 3/16" wire gear and to easily attach to standard retract mechanisms. The landing gear is designed for six (6) to twelve (12) planes
Spring Gear is available in sets of::
• Two Mains and a Nose/tail
• Two Mains
• Nose / Tail
The gear is designed to accommodate 2-3/4" diameter (max) wheels on the mains and 2-1/2" diameter (max) wheels on the Nose gear. Smaller wheel may also be used.
Add to Cart at: (Prices effective 10-01-09)
Set of three (2-mains, 1-nose) $69.99 (wheels not included)
Set of Two Mains $49.99 (wheels not included)
Single Nose/tail Gear $27.99 (wheels not included)
The spring landing gear is in stock: To Order Call: 949-378-5998
Super-Wheels are also available for the Spring Landing Gear Call 949-378-5998
Specifications:
Mains: 2-3/4" Wheel, max dia (~7 cm)
Nose: 2-1/2" Wheel, max dia (~6.4 cm)
Axle: 5/32" (3.97 mm)
LG Shaft ID: 5/32" (3.97 mm) Sizable to > 3/16" LG Shaft OD: 0.400" +- 0.005" (10.6 mm)
Length: 5-1/2" (13.97 cm)
Setscrews: 4 (6-32, 1/16 hex drive)
Suitable for 6 – 16 pound planes Weights: ~ 44.1 grams, 1.56 oz, or 0.097 lbs each piece.
Wheels not Included with Landing Gear
Golden Skies R/C Aircraft, Inc.®
Address: 30882 Rivera Place, Laguna Niguel, CA 92677
Info: (949) 378-5998, Order: 949-378-5998 Fax: (949) 495-5170
E-mail: orders@goldenskiesrc.com Web: www.goldenskiesrc.com
All rights reserved. ©2002-2012 Golden Skies R/C Aircraft, Inc ®.